Expanded Offshore Support Group (EOSG)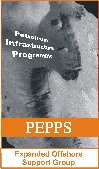 The EOSG, set up by the
Petroleum Affairs Division (PAD)
in 2002, continues the work of the PIP
Offshore Support Group (OSG)
, concentrating on infrastructure support, but has flexibility to conduct other work as deemed necessary, and provides additional services to facilitate applied petroleum-related research. Specific work themes include:
· support for training, scholarship, equipment purchase, goods & services etc. so that local organisations and individuals can participate in, contribute to and benefit from research and development related to hydrocarbon E&P;
· facilitation and (part) funding of joint industry programmes or projects;
· provision of a one-stop-shop contact for E&P related research activities in relation to funding sources, contacts and sample/data access issues;
· conduct of projects under any PEPPS objective heading in pursuance of PAD strategic goals.
Funding:
€17,472 per company per annum. A company will only be required to make a single annual contribution to the EOSG irrespective of how many licences that company is involved in.
Contributors:
All companies participating in frontier exploration licences.
Management:
Management of the EOSG is undertaken by the Petroleum Affairs Division (PAD) of the Department of Communications, Energy and Natural Resources.
Contact:
Jim Whelan
Petroleum Affairs Division
Department of Communications, Climate Action & Environment
29-31 Adelaide Road, Dublin, D02 X285, Ireland
Tel.: +353 1 678 2691 Fax: +353 678 2519
E-mail:
Jim.Whelan@dccae.gov.ie
To date approximately 200 projects have been supported by the OSG and EOSG.